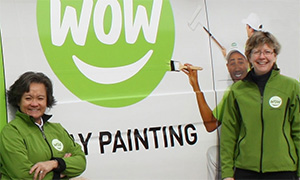 Owners: Leesa Franklin and Leesha Cunningham
General Manager: Leesha Cunningham
Welcome to WOW 1 DAY PAINTING Ottawa. We are very excited to offer you exceptional service, high quality workmanship, and professional painters that truly care about offering you that WOW experience!

Cleaning for a Reason
Maid The Day Cleaning Services is THRILLED to announce our partnership with the fabulous non-profit company called Cleaning For A Reason. We will now be cleaning for women who are fighting cancer FREE OF CHARGE. If you or someone you know is fighting the battle, please direct them to http://www.cleaningforareason.org/ and apply for this wonderful cause! We cannot wait to help these women by providing professional housecleaning and to be a part of this great non-profit! Look for more information as we move forward.

Preferred Business Partners
Maid The Day Cleaning Services is HONORED to announce our partnership with James Blaskie and his amazing
Quality Homes Team
! Specializing with Move-In and Move-Out clients as well as pre-staging cleans prior to your photo shoot and open house events. At Maid The Day we don't cut corners, we clean them!

Let the
Garage Floor Guru
in Ottawa give your garage floor, or any concrete floor for that matter, a beautiful, virtually maintenance free, extremely hard, durable, seamless surface. Your best bet for concrete slab floor coverings in Ottawa.